The Lesser Town is a part of the city centre of Prague on the other side of the Vltava River. If you walk from the Old Town over the old Charles Bridge, you are in the Lesser Town (Mala Strana). Many tourists cross parts of the Lesser Town on their way from the centre to Prague Castle. The largest castle in the world is situated on a hill north of the Lesser Town of Prague.
There are many sightseeings in the Mala Strana, although of course the Prague Castle is the big highlight. The castle of Prague is discussed in this article. Here you will find information about other attractions is the Mala Strana (Lesser Town)..
The central square of the Lesser Town is the Lesser Town Square, also called the Lesser Town Ring (Malostranské náměstí). You can reach the town square by going straight on after crossing the Charles Bridge from the Old Town. On the square "Mala Strana Ring" there is, among other things, the big St. Nicholas Church (Baroque).
Going straight ahead you will reach one of the most beautiful alleys of Prague, Nerudova Street. Here you can see many old houses with nice shops, cafes and restaurants. Only a few meters further to the left is the German embassy known from the year 1989, into which thousands of GDR citizens fled in 1989 to successfully force their departure to the West.
German Embassy Prague
In the Lesser Town of Prague you should also take a look at the famous John Lennon Wall, a symbol of love, freedom, peace and in the 80s resistance against the socialist dictatorship.
Also interesting in the Lesser Town of Prague is Kampa Island in the Vltava River directly south of Charles Bridge. Here you will find nice alleys with mills, a beautiful city park with the famous Kampa Museum of Modern Art.
The Mala Strana is known for great, big houses. Perhaps the most beautiful is the Waldstein Palais, where the Czech Senate (Chamber of Parliament) meets today. Therefore, the building can only be viewed by the public on weekends.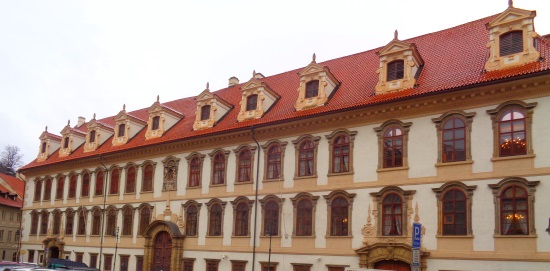 There are also some great gardens in the Lesser Town of Prague. The most beautiful and worth seeing is the Vrtba Garden (next to the gardens of Prague Castle).