In this article you will find all visitor information for the Techmania Science Center in Pilsen (Czech Republic).
The Techmania Science Center Pilsen in a new, very modern interactive museum on the theme of technology and science. The exhibition is interesting for both children and adults. Visitors will find an educational hands-on museum in former halls of the Czech car manufacturer Skoda. There is also a hypermodern 3D plaentarium and a 3D cinema with interesting films.
The Techmania is easy to reach. It takes about 15 minutes to walk from the center of Pilsen. The entrance fee of the equivalent of about 11 euros (as of January 2022) is reasonable. The entrance fee largely includes the 3D cinema and the planetarium. There are also family tickets.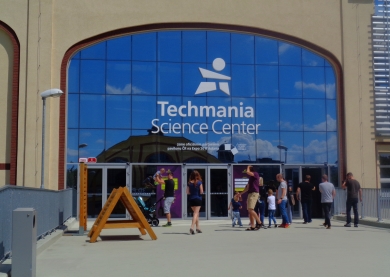 What can you see in Techmania Pilsen?
Techmania is divided into two building complexes. In one is the actual technology exhibition, in the other building is the cinema and planetarium. After paying the entrance fee you get a wristband. You can use it to change buildings at will.
In the main building there is the actual exhibition. At many objects you can operate buttons, levers and other things. Playfully and through interaction you learn technical principles, laws of science and much more.
One of the focal points is mechanics. But there are also many other things on topics such as physics, space, chemistry, mining, nutrition or man. Another part of the exhibition is devoted to the history of the industry of Pilsen and the Skoda company. For example, the oldest surviving Skoda locomotive is on display.
Much in Techmania Plzen is intended for children and young people, but also for adults the museum is more than interesting.
Furthermore, there are demonstrations (shows) several times a day. During our visit, for example, a large steam engine was demonstrated, a Van de Graaff generator (device for generating DC voltage) and a gyroscope (special gyroscope).
3D cinema and planetarium
In the 3D cinema, movies in 3D are shown several times a day. We really liked two short films about animals and plants in Czech national parks.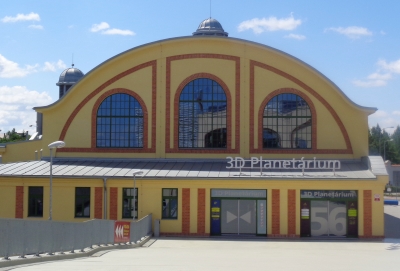 Undoubtedly one of the highlights of Techmania Pilsen is the large planetarium with 90 visitor seats and 14 meters in diameter. The modern planetarium is also in 3D. There are demonstrations from astronomy, but also from other topics of nature and science.
The demonstrations in the cinema and planetarium are already included in the entrance fee. However, one should reserve a seat for an extra fee of 30 crowns (a little over 1 euro). If you don't understand Czech, you'll be given a headset at the time of reservation, in either English or German. If you don't reserve a seat, you can only watch the movies in Czech. According to an employee in the cinema, you should reserve a seat at least 30 minutes before the respective screening at the box office in the main building.
Our impression
The Techmania Pilsen is new and modern. The mostly young employees speak English and are very nice and helpful. You can learn a lot in the museum. The Techmania reminded us a bit of the Deutsches Museum in Munich. Of course, the Techmania is not as big as the Deutsches Museum, but it is much more modern, according to our impression. If you go to the planetarium or the cinema two or three times for different films, you can easily spend four to five hours in the Techmania.
Since the interactive museum only costs a good 6 euros for admission, including the planetarium and 3D cinema, it's a real bargain. We can definitely recommend the Techmania.
Entrance fees Techmania Pilsen 2023
As we already said, the entrance fee to Techmania is not too expensive. However, the ticket prices have approximately doubled in 5 years. A ticket for one person costs 280 crowns (about 11Euro). As of January 2023
Opening hours Techmania Science Park 2023
Opening hours are daily from 10am to 6pm. Saturday is open one hour longer (until 7pm). In winter, it is often open only from Thursday to Sunday.
Restaurant in Techmania Pilsen
There is a self-service restaurant behind the ticket office. On our visit, there were four main courses, all around five euros. Snacks, appetizers, desserts, coffee, etc. are also offered.
In addition, you can find vending machines for drinks in the technology museum. I treated myself to a cool Pepsi Cola (0.5 liter) for 30 crowns (1.15 euros). (Price from 2019).
Directions to Techmania in Pilsen
f you come by car, you should have no problem finding a parking space in the area.
Otherwise, it's best to walk from the center of Plzen. There are also trolley buses stopping in the area. However, you will probably be faster on foot if you are not familiar with public transportation in Pilsen. It takes about 15 minutes to walk from the city center.
There is also a similar museum of technology in Prague: our article about the Prague Museum of Technology
The Berlin Museum of Technology: Our article
The Vienna Museum of Technology: Our article
Car Museum Hamburg Our article
The Glass Museum of Venice-Murano: Our article
The Tower of London: Our article