There are several interesting botanical gardens in Prague, one is almost right in the centre. It is the Botanical Garden of the Charles University of Prague. The beautiful, large park is freely accessible (no entrance fee) and is an ideal place for recreation in the middle of the city. In the middle of the Botanical Garden you can hardly hear the traffic noise anymore. You feel as if you are in the middle of nature.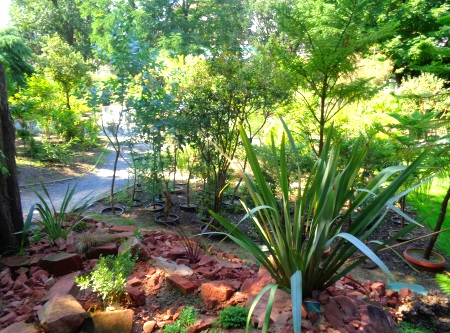 Admission only to the greenhouses. The Botanical Garden is well visited. Many people from Prague walk here and escape their concrete everyday life for a few hours. The botanical garden is very old, it exists since the year 1898. One finds everywhere pretty park benches to rest. In peace you can observe the plants, birds and insects. We asked ourselves why not also German cities have in the center instead of a simple city park such a botanical garden freely accessible without entrance fee. Such a beautiful and varied green area is a great idea.
Bestseller:

Prague boat tour with dinner (buffet)
It is perhaps the most popular tour in Prague. 3 hour boat ride in the evening on the Vltava River with great buffet dinner included. Great modern ship with lots of glass for best view, open top deck for photography, good food and very good reviews from participants. Price under 60 euros per person, window seat only a few euros more. Our recommendation for a cruise on the Vltava River.
Entrance fee Botanical Garden Prague: As I said, the garden does not cost an entrance fee. Only the visit with greenhouses costs 2 Euro. These are interesting, but if you are looking for a balance to the hustle and bustle of downtown Prague, you can enjoy the Botanical Garden free of charge without visiting the greenhouses.
Opening hours Botanical Garden Prague: The City Park is open daily in summer (April to August) from 10 a.m. to 7:30 p.m., in winter the opening hours are slightly shorter (10 a.m. to 6 p.m.). The greenhouses close a little earlier, depending on the season between 15:30 (winter) and 7:00 (summer).
Address: Na Slupi 433/16, 128 00 Nove Mesto (New Town), Prague (about 1 km south of the tourist Old Town)
How to get to the Botanical Garden in Prague: There is a tram stop called Botanical Garden (Botanická zahrada). The nearest underground station is also not far away (Charles Square, Karlovo náměstí).
Structures Botanical Garden Prague
The garden is divided into several "departments". Among other things these are (translated freely by us) the native flora of Central Europe, water landscapes and wetlands, useful plants, subtropical plants (mostly greenhouse), tropical plants (greenhouse), cacti (greenhouse), flora Asia, flora America, Alpinum (alpine garden), Mediterranean rock garden, oaks, roses and some more. Interesting is the Geological Garden (see picture)
The Botanical Harden of Bochum: https://germany-guide.info/old_synagogue_essen/
There are many signs, information boards and explanations in the Botanical Garden of Charles University. These are in Czech language, partly also in English.
Name of the Botanical Garden of Charles University Prague in other languages: Botanical Garden of Faculty of Charles University in Prague (English) and Botanická zahrada Přírodovědecké fakulty Univerzity Karlovy (Czech).


Deutsche Version dieses Artikels